The award winning and nationally recognized Funny Bus is rolling into Cleveland.  We're very excited to bring this unique blend of laughter and learning to the North Coast and will be opening as soon as we can safely operate tours.
Started in Charlotte, North Carolina, the Funny Bus has been providing fun and excitement to guests of all ages for more than five years.  In Cleveland, the Funny Bus will feature local comedians showcasing the highlights of our beloved city and the surrounding area.  Guests can bring their own beer and wine, too.
Whether you are visiting or you are a local, you will enjoy exploring the city, laughing, and relaxing on this 90-minute bus tour.  Come laugh and learn with us on your next date night, girl's night out, or just to kick start a fun night on the town.  Be one of the first on the bus – reserve your seat now!
Did you know Funny Bus offers private tours?
Our private tours are lots of fun and great for both company outings such as team-building or other work related social events, and personal celebrations such as family reunions, birthday parties, neighborhood gatherings to name a few. With tour options that range from PG to R rated we can accommodate up to 34 people. There's always a stop for a beverage and bathroom break at the half-way point and private parties can bring a large cooler for beer & wine. Other options include customized tour start times and pickup locations. If your group isn't that big don't worry, we offer discounts on our regularly scheduled tours for groups of 20 or more. We can't think of better way to bring a group together than through laughter?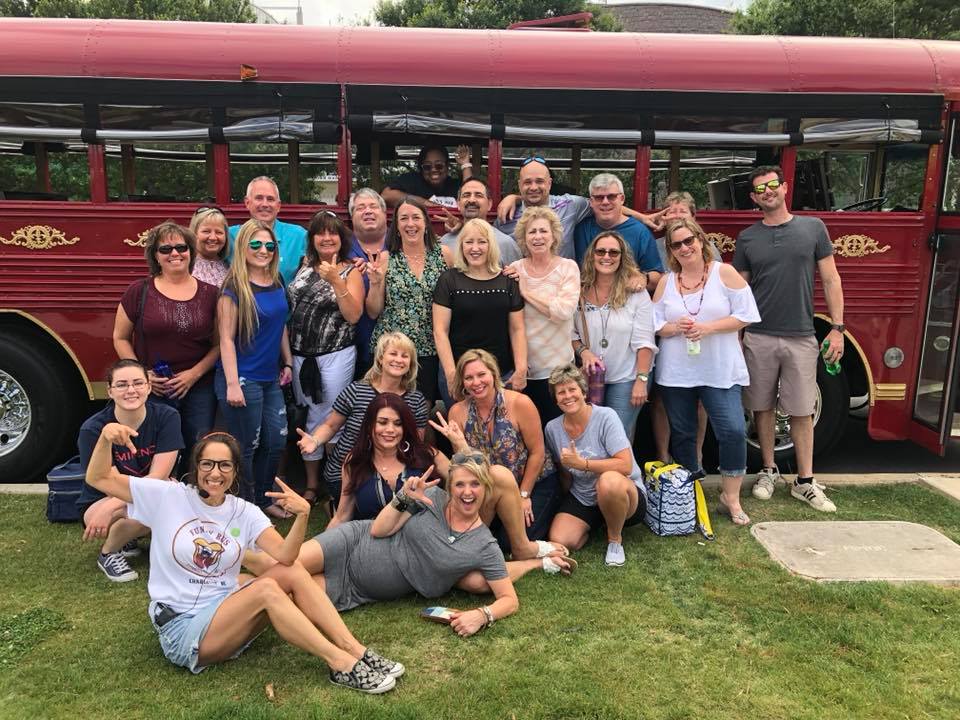 For more information about our Private Tours call 216-404-7786
See the Funny Bus in Action
For a quick look at the fun and excitement on a typical Funny Bus tour, just watch these short videos. For more videos featuring our crazy staff and Funny Bus antics, check out our YouTube page. We guarantee you will have as much fun watching them as we did making them.

Dean and Sarah Schnurr are married and combined have more than 50 years of experience in marketing, public relations and management. As seasoned event planners, they have a keen understanding of what is necessary to make an experience memorable and they have used those skills to ensure Funny Bus tours provide top notch entertainment.

Dean grew up in Northern Ohio and Sarah has lived here for 25 year. They have a great knowledge of the Cleveland area and since starting the Funny Bus in 2020 they have immersed themselves in the local comedy scene. They pride themselves on identifying the finest comedians to provide tours and ensure the guests are laughing the whole trip.

As 'hands on' owners, they are involved in all aspects of Funny Bus operation and it is not uncommon to see them sitting next to guest on a Funny Bus tour. They encourage riders to introduce themselves and share information about their Funny Bus experiences or just say 'Hello'
Connect with us on Facebook, Twitter, Instagram and YouTube.