Funny Bus Atlanta
We're incredibly excited to announce the award-winning and nationally recognized Funny Bus Comedy City Tour is rolling into Atlanta!
Originally launched out of Charlotte, North Carolina, the Funny Bus has provided fun and excitement to guests of all ages since 2015. In Atlanta, the Funny Bus Atlanta will feature local comedians showcasing the highlights of our beloved city and the surrounding area. Guests are welcome to bring their own small cooler of beer and wine too!
Whether you're a local or visiting, you'll enjoy exploring the city, laughing, and relaxing on this 90-minute bus tour. Laugh and learn with us on your next date night, girl's night out, or simply try something different and kick off a fun night on the town!
Join us on social media to follow our journey as we launch one of the most exciting tours in the South!
LOOKING TO JOIN THE FUNNY BUS ATLANTA TEAM?
We're looking for hilarious comedians and reliable bus drivers to join the Atlanta Funny Bus team! Do you love laughing and meeting new people? Are you looking for a fun way to make some extra cash? Look no further! Call to discuss open positions and availability! We would love to speak with you!
Private tours on the Funny Bus are amazing!
The best way to bring a group together is through laughter! Our private tours are great for team-building or other work-related social events. Personal celebrations such as family reunions, neighborhood gatherings, and birthdays are always a hit on the Funny Bus. You choose the rating from PG to R-rated and can bring a large cooler for beer & wine. Halfway through, there's a beverage & bathroom stop for your convenience. Want a specific start time and pick-up location? We can customize that too! If your group isn't that big, don't worry. For parties of 20 or more, we offer discounts on our regularly scheduled public tours.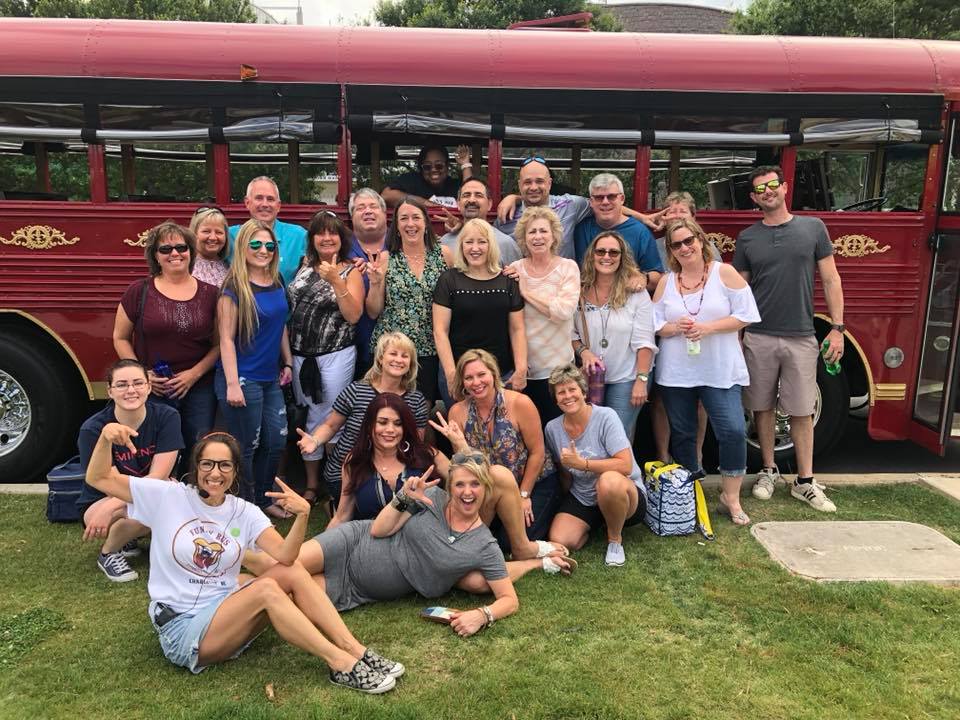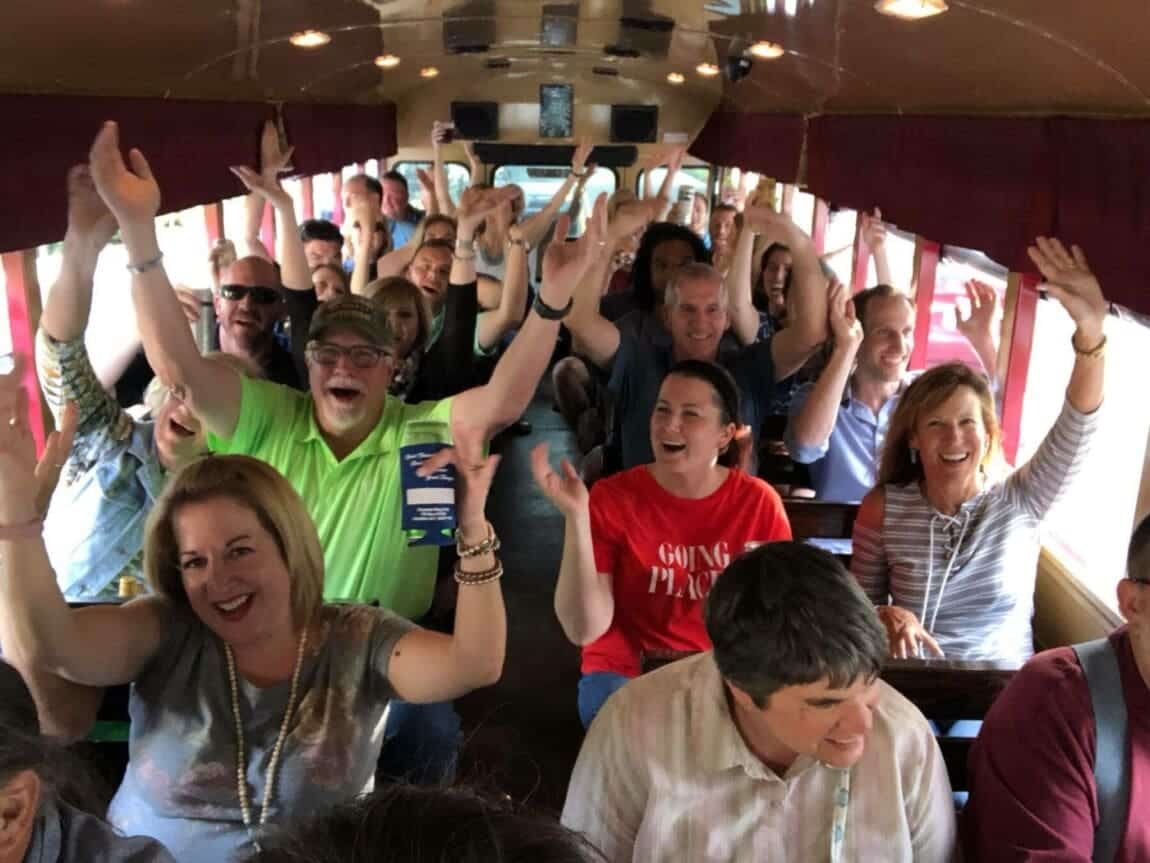 To schedule your Atlanta Funny Bus Private Tour call: 404.220.8600
See the Funny Bus in Action
Watch these short videos for a quick look at the fun and excitement of a Funny Bus Comedy City Tour. Check out our YouTube page for more videos featuring our wild staff and more Funny Bus antics. You'll have as much fun as we did making them!
Since Funny Bus is new to Atlanta we're sharing a few reviews from other cities:
Top Rated on:
Google – Facebook – Yelp  – TripAdvisor
With over 2,500 reviews
We did the Rates R Funny Bus Tour and it was definitely worth it. Ill gladly do it again with anyone new who comes to town. I was able to learn a little more about Charlotte in a humorous way. I also loved that I was able to see places Ive never been to before so I can write them down and try them out. Awesome tour!
This was SUCH an awesome time!! Thomas and Drew are a great team. We laughed the whole time!! And even learned some cool History
I went with a friend who was visiting CLT for the first time as well as two other friends that had been here their entire lives. This tour was a blast for everybody involved. I was impressed by all the places we were able to see and learned a bunch of fun facts about the Queen City. JJ did a great job of keeping everybody engaged as well as laughing from start to finish. Safe to say that I will be doing this again. 
My husband and I visited Charlotte for the first time last weekend and took the funny bus tour with some friends. We had an awesome time! What a great way to get the feel of a new city… some history, seeing the neighborhoods, and the sports arenas and lots of laughs!! Both our tour guide and driver were great. The length of the tour seemed perfect.. and we also loved the pit stop at the brewery to refresh and stretch your legs for a minute. The Bus was clean and comfortable. Great way to spend a couple hours and get to know the surroundings!
Very fun! Great way to spend some time relaxing and seeing the city! Our driver had the whole bus laughing the whole time!
Our tour guide JD and driver Dee were awesome! Dee got us around safely and was super sweet. JD was hilarious. Upbeat and very informative about the city. The tour surpassed my expectations and I will definitely be returning to Again. Thanks you making my first visit to Charlotte memorable!
We had a great afternoon on the Funny Bus! Being new to Charlotte, this was a fantastic way to learn about our new home. Our guide/comedian was Roxanne; she was a blast, informative, and hilarious! We will definitely return with out of town guests. I highly recommend this tour! Thanks for the laughs Roxanne!
BYOB bar on wheels? Are You Kidding? Sign Me Up, Please. I laughed so hard I was rolling in my seat. Seriously, My cheeks hurt, and had to gently massage them at the end of the tour. I could tell that Brandon, our tour guide/comedian, really enjoy & love what he do — and he's good at it too!  
Had a great time learning about Charlotte. Roxanne kept us entertained and interested. It's a great way to spend a portion of an afternoon at a reasonable price.
Absolutely hilarious! "White John" had great jokes and kept the whole bus involved! We had a great time and can't wait to do it again!
Went on the Funny bus last night. our Comediean was Thomas and let me tell you he was amazing!!! If you go on and he's working you will have a blast. He was very interactive and we never had a dull moment. Also our bus driver Konica was a great time and very funny as well. Definitely planning on coming back and recommending this to everyone I know!
Fantastic! JJ was hilarious, the tour was informative (I learned things I didn't know and I've lived in Charlotte for more than a decade) and you can drink during the tour. We had a great time. CHURCH!
"What a fun way to check out the city!"
"The Most Relaxing & Leisurely Activities Charlotte's Got to Offer"
"101 Fun Things to Do in Charlotte"
"Led by local comedians, the 90-minute bus tour combines laughs and local lore for a lively tour of the city's core."
"Most Popular Tourist Attraction in NC"
"I love the concept. It's so much fun. It's not the typical history tour of the city."

Summer Rose, is a proud Atlanta native that spent her formative years in the vibrant metro area graduating from Chamblee High School and earning her B.A. in Computer Information Systems from Georgia State University. She honed her skills in the restaurant industry for many years before embarking on a remarkable journey into the world of technology sales where she has flourished ever since!

A true people person, Summer thrives on making new connections, and her infectious laughter is a testament to her vibrant personality. (She's probably even cracking up somewhere right now while you're reading this) She saw a unique opportunity to showcase some of her favorite Atlanta sites with a comedic twist and the rest is HISTORY. Get it!? (That's a FREE joke people!) But wait, there's MORE! When she learned she could allow guests to bring their own alcohol too that was the peanut butter to her jelly - a match made in heaven! Who couldn't love the irresistible mix of history, laughter, alcohol, and pure fun!? We certainly can't! With unparalleled excitement, Summer is ready to introduce this one-of-a-kind concept to Atlanta's vibrant community!
Join us on social media to follow our journey as we launch one of the most exciting tours in the South!