Funny Bus Charlotte
Both locals and visitors enjoy exploring the city, laughing, and relaxing on this 90-minute comedy city bus tour. Laugh and learn with us on your next date night, girl's night out, or kick-start a fun night on the town. Funny Bus Charlotte tickets sell fast, so reserve your seat now!
We opened in 2015 in Charlotte, NC, and feature local comedians showcasing the highlights of the Queen City and the surrounding area on the Funny Bus Comedy City Tour. You can also bring your own beer & wine to enjoy during the tour.
Friday the 13th launches our Beetle Juice Halloween Inspired Funny Bus Tours!
Our regular Funny Bus route plus a few extra blocks so we can highlight some of Charlotte's haunted buildings and scary places, while we feature Halloween music and games. However, please understand this is NOT a haunted tour.  We are a comedy bus, folks – we do funny, not spooky!
Add in some zany antics from Beetle Juice, your tour guide, and you'll have a great October on the Funny Bus!
There might even be prizes for the best Halloween costume!
Private tours on the Charlotte Funny Bus are amazing!
The best way to bring a group together is through laughter! Our private tours are great for team-building or other work-related social events. Personal celebrations such as family reunions, neighborhood gatherings, and birthdays are always a hit on the Funny Bus. You choose the rating from PG to R-rated and can bring a large cooler for beer & wine; halfway through, there's a beverage & bathroom for your convenience. We can customize tour start times and pickup locations and accommodate up to 78 people on two buses. If your group isn't that big, don't worry; for parties of 20 or more, we offer discounts on our regularly scheduled public tours, too.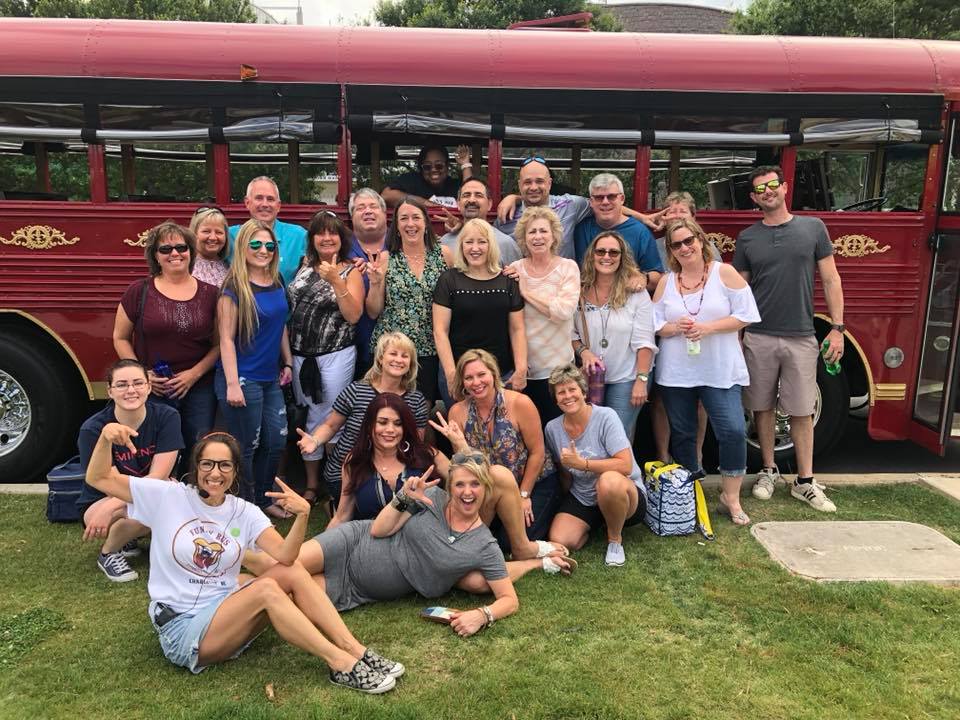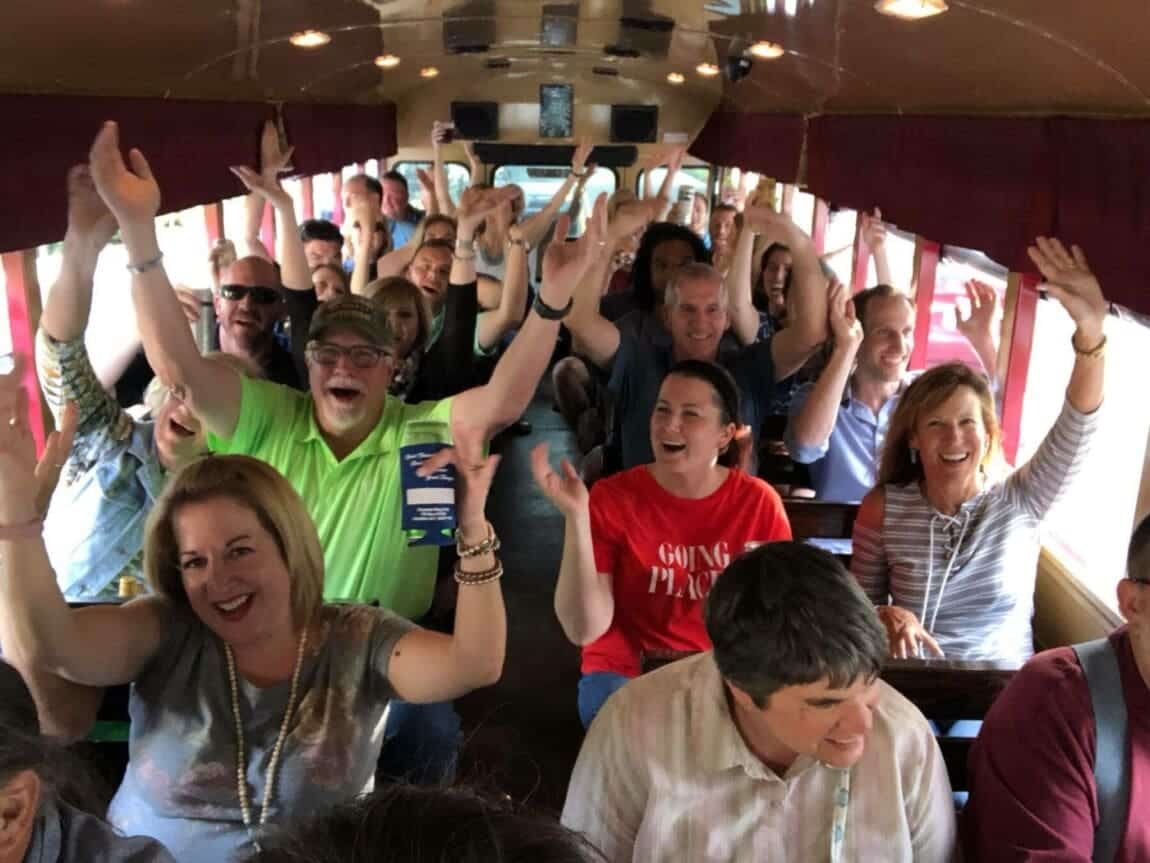 To schedule your Charlotte Funny Bus Private Tour call: 704-659-3186
The Most Popular Tourist Attraction in NC.
"Charlotte Funny Bus combines an informational city bus tour with a BYOB comedy show. Jokes are similar to what you'd see in a comedy club, so the trip is an adult-only way to learn about North Carolina's biggest city."
Time MONEY Magazine
Top Rated on:
Google – Facebook – Yelp  – TripAdvisor
With over 2,000 reviews
Had a great time learning about Charlotte. Roxanne kept us entertained and interested. It's a great way to spend a portion of an afternoon at a reasonable price.
This was SUCH an awesome time!! Thomas and Drew are a great team. We laughed the whole time!! And even learned some cool History
My husband and I visited Charlotte for the first time last weekend and took the funny bus tour with some friends. We had an awesome time! What a great way to get the feel of a new city… some history, seeing the neighborhoods, and the sports arenas and lots of laughs!! Both our tour guide and driver were great. The length of the tour seemed perfect.. and we also loved the pit stop at the brewery to refresh and stretch your legs for a minute. The Bus was clean and comfortable. Great way to spend a couple hours and get to know the surroundings!
Our tour guide JD and driver Dee were awesome! Dee got us around safely and was super sweet. JD was hilarious. Upbeat and very informative about the city. The tour surpassed my expectations and I will definitely be returning to Again. Thanks you making my first visit to Charlotte memorable!
Very fun! Great way to spend some time relaxing and seeing the city! Our driver had the whole bus laughing the whole time!
We did the Rates R Funny Bus Tour and it was definitely worth it. Ill gladly do it again with anyone new who comes to town. I was able to learn a little more about Charlotte in a humorous way. I also loved that I was able to see places Ive never been to before so I can write them down and try them out. Awesome tour!
Absolutely hilarious! "White John" had great jokes and kept the whole bus involved! We had a great time and can't wait to do it again!
Fantastic! JJ was hilarious, the tour was informative (I learned things I didn't know and I've lived in Charlotte for more than a decade) and you can drink during the tour. We had a great time. CHURCH!
We had a great afternoon on the Funny Bus! Being new to Charlotte, this was a fantastic way to learn about our new home. Our guide/comedian was Roxanne; she was a blast, informative, and hilarious! We will definitely return with out of town guests. I highly recommend this tour! Thanks for the laughs Roxanne!
BYOB bar on wheels? Are You Kidding? Sign Me Up, Please. I laughed so hard I was rolling in my seat. Seriously, My cheeks hurt, and had to gently massage them at the end of the tour. I could tell that Brandon, our tour guide/comedian, really enjoy & love what he do — and he's good at it too!  
Went on the Funny bus last night. our Comediean was Thomas and let me tell you he was amazing!!! If you go on and he's working you will have a blast. He was very interactive and we never had a dull moment. Also our bus driver Konica was a great time and very funny as well. Definitely planning on coming back and recommending this to everyone I know!
I went with a friend who was visiting CLT for the first time as well as two other friends that had been here their entire lives. This tour was a blast for everybody involved. I was impressed by all the places we were able to see and learned a bunch of fun facts about the Queen City. JJ did a great job of keeping everybody engaged as well as laughing from start to finish. Safe to say that I will be doing this again. 
"The Most Relaxing & Leisurely Activities Charlotte's Got to Offer"
"Best Ways to Tour Charlotte"
"BOB Awards Winner: Best Tour to Take Visiting Friends On"
"101 Fun Things to Do in Charlotte"
"Best First Date in North Carolina"
"Most Popular Tourist Attraction in NC"

Meet Kevin Anderson and Lisa Schnurr, founders of the Funny Bus Comedy City Tours. With more than 50 years of service industry in their blood this duo knows how to show guests a good time. Nothing makes them happier than to have a guest step off the bus with a huge smile and say "That was the best time ever!".

They love welcoming old friends back each time and meeting all the new visitors that come to the Queen City. They enjoy going to comedy clubs to scout new talent and training the comedians on the history of Charlotte to share with all. When you board the bus they want you to feel comfortable and amused by the hilarious comedians they hand picked just for you.

They welcome you to contact them at any time to share your experience about the tour or even a funny story.
They would love to laugh with you!
Connect with us on Facebook, Twitter, Instagram and YouTube.